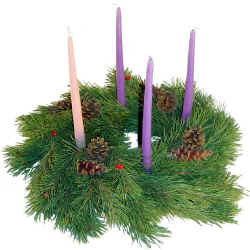 FIRST SUNDAY OF ADVENT, DECEMBER 2, 2007:
"Stay awake!" Those are not exactly the words you want to hear at the beginning of a homily. And yet, these are the words of Our Lord as we begin today the season of Advent; our annual pilgrimage toward the celebration of Christmas.
Typically when we hear the word pilgrim, we immediately think of Thanksgiving. We talk a lot about pilgrims and Puritans this time of year. What's often lost in our culture is the religious meaning of the word pilgrim. We don't have a strong tradition of making pilgrimages in the U.S. But many people regularly embark on religious pilgrimages to places like Rome, the shrines of Mary throughout the world, perhaps the Holy Land. And 40 years ago, the Second Vatican Council reminded us that we, the Church, are a pilgrim people. So, what does this mean for us?
As we begin our new Church year with the season of Advent, pilgrimage is good image for the journey that we begin today. We are on an Advent journey toward the feast of Christmas. In the bigger picture of our liturgical year, we are beginning anew the journey to eternal fulfillment; we are beginning our yearly re-enactment of the drama of our salvation, beginning with the mystery of the Incarnation at Christmas, to the great gift of Resurrection at Easter, and culminating next year in the celebration of Christ's ultimate victory in the feast of Christ the King. But, today, we take our first steps on the way.
We take these steps as pilgrims. And, we hear specific instructions for pilgrims in our readings today. In our reading from Isaiah, we hear the image of pilgrimage to describe the great gathering of the future. He announces that all nations will stream toward the mountain of God. There they will all be instructed in His ways, and in response they will "beat their swords into plowshares and their spears into pruning hooks; one nation shall not raise the sword against another, nor shall they train for war again." What a glorious image! What a needed promise for our world!
Then in our responsorial psalm we again here the language of pilgrimage. Our refrain, "Let us go rejoicing to the house of the Lord," is a joyful hymn originally meant to be sung as pilgrims journeyed to Jerusalem, the dwelling place of God on earth. Jesus likely sang this hymn as he journeyed there. We too find ourselves singing it as pilgrims today. This psalm encourages us to set our sights on our own salvation and the salvation of our world, when Christ will bring to fulfillment His long awaited promise of peace.
In our reading from Paul, we are told what we must do to help bring about this vision of peace. He exhorts us, "Conduct yourselves properly." He warns us against lives of self-indulgence and self-centeredness of any kind. More than that, he condemns the "rivalry and jealousy" that can lead to division. If we are genuine pilgrims on the way to salvation, we must act as pilgrims and enter wholeheartedly into the pilgrimage, leaving behind whatever might hinder our progress, accepting whatever hardship our journey might entail.
Today's Gospel seems, at first, to paint a dire picture. It describes how the disaster of the flood took the people of the time of Noah by surprise, and it speaks of not knowing when the thief is coming during the night; and that some will be taken and some will be left. But, the point of Jesus' teaching is the unpreparedness of the people in each case, not the tragedy itself. Had they been prepared, there would have been no tragedy. It also presumes that had they known when misfortune was going to occur, they would have been prepared. And that is the point for us today. They did not know, and neither do we. And so Jesus admonishes us: "Stay awake! Be prepared at all times!"
So, on this first Sunday of Advent, I invite you to take out your good, spiritual walking shoes – we're going on a journey. And this journey, this pilgrimage, doesn't merely lead to Christmas presents; it will lead us to the fulfillment of God's promises and plans for our salvation. We have before us a vision of universal peace and reconciliation among nations and among people. In just a few weeks, we will celebrate the birth of the Son of God, who will help make this peace a reality. But, we must take the first step. There must be a great anticipation in our step, urgency in our preparedness. This is what is placed before us today. It is up to us to decide whether or not we wish to join the pilgrimage. This is our wake up call.
"Brothers and sisters: You know the time; it is the hour now for you to awake from sleep. For our salvation is nearer now than when we first believed."
May God give you peace.