NOTE: This is just about the most exciting news I can imagine. To Kill A Mockingbird is by far my favorite book and perhaps the best American novel ever written. I re-read it every few years and never tire of the story. Added to that, the great mystery that Harper Lee (still alive) never published anything else. I have always hoped that there would be more from this great writer and now 55 years on, we have a new novel set to come out. Why is July so far away!!!!! - FT
Go Set a Watchman, completed in the mid-50s but lost for more than half a century, was written before To Kill A Mockingbird and features Scout as an adult
Harper Lee
, author of
To Kill a Mockingbird,
is to publish her second novel, Go Set a Watchman this summer, a work which the reclusive writer had believed lost for decades, and in which her beloved character Scout will be seen as an adult.
The shock news will delight the 88-year-old's millions of fans, who have waited for a second novel from Lee since 1960, when she released her debut, To Kill a Mockingbird, the tale of racism in the American south which has captivated readers ever since.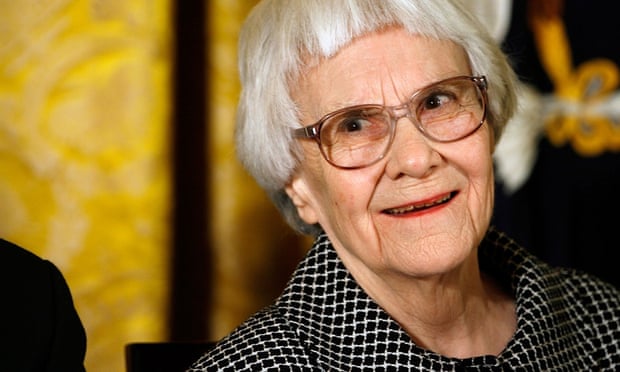 Lee said in an announcement from her publisher, Penguin Random House, that she completed Go Set a Watchman in the mid-1950s, but set it aside after the publication of her debut and never returned to it. "It features the character known as Scout as an adult woman and I thought it a pretty decent effort," said the reclusive writer. "My editor, who was taken by the flashbacks to Scout's childhood, persuaded me to write a novel from the point of view of the young Scout. I was a first-time writer, so I did as I was told."

Lee said today that she "hadn't realised" the book had survived, "so was surprised and delighted when my dear friend and lawyer Tonja Carter discovered it". Carter found the manuscript, said the publisher, "in a secure location where it had been affixed to an original typescript of To Kill a Mockingbird".

"After much thought and hesitation I shared it with a handful of people I trust and was pleased to hear that they considered it worthy of publication. I am humbled and amazed that this will now be published after all these years," she finished.

UK and Commonwealth rights in the book were acquired by Penguin Random House chief executive Tom Weldon from Andrew Nurnberg of Andrew Nurnberg Associates. It will be published under the William Heinemann imprint - which originally published To Kill a Mockingbird, all those years ago - on 14 July this year.

The publisher revealed that the mid-1950s-set work features Scout's father, Atticus, as well as other characters from Lee's debut. Set 20 years on, it sees Scout return to Maycomb from New York to visit her father. "She is forced to grapple with issues both personal and political as she tries to understand both her father's attitude toward society, and her own feelings about the place where she was born and spent her childhood," said the publisher.

"To Kill a Mockingbird is one of the most important and enduring books on the Penguin Random House lists and it is no surprise that time and again it is voted best loved by both the reading public and by educators," said Weldon. "The story of this first book – both parent to To Kill a Mockingbird and rather wonderfully acting as its sequel – is fascinating. The publication of Go Set a Watchman will be a major event and millions of fans around the world will have the chance to reacquaint themselves with Scout, her father Atticus and the prejudices and claustrophobia of that small town in Alabama Harper Lee conjures so brilliantly."

His colleague Susan Sandon predicted that, like To Kill a Mockingbird, Go Set a Watchman is "destined to speak to generations of readers". "Immersing oneself anew in the rhythms and cadences of Harper Lee's rich prose and meeting Scout fully grown makes for an irresistible read which also casts new light on one of the most popular classics of modern literature," she said.