HOMILY FOR THE 5th SUNDAY IN ORDINARY TIME, February 8, 2015:
Our Scriptures today invite us to contend with perhaps the most difficult question in all of religion: Why do we suffer? It is a question that I'm sure each one of us has thought about at one point or another on our spiritual journey.
We heard about this right from the first reading in the perhaps most iconic story of suffering and its meaning in the story of Job. We heard his desperation, "Remember that my life is like the wind; I shall not see happiness again." Job lost everything; his land, possessions and even his family, besides a plague of boils and other horrors. Listen to the anguish in his words, "My days come to an end without hope…I shall not see happiness again."
Job sees no purpose in his suffering. He can't make meaning of what he's enduring and so he complains. Job feels helpless and hopeless. I imagine that when we hear these words of Job, we can all identify with him in one way or another – either in trying to make sense of our own suffering or in trying to understand why others suffer. We've all felt like Job wondering why things have to be the way they are. Why bad things happen; especially to good people.
The story of Job today reminds me of the mother of a close friend of mine who passed away a number of years ago. His Mom's name was Adele. Adele had many Job-like moments in her life. She lost her father when she was very young, her brother died at age 16, she had 7 miscarriages before finally carrying a baby to term in her 40s, she suffered through cancer, heart attacks, lost her kidneys and had to undergo dialysis for years, and she suffered from diabetes that in the end required the partial amputation of a leg. She had sufferings that could give Job a run for his money and she could have very easily said like him, "I have been assigned months of misery, and troubled nights have been allotted to me." But, Adele never spoke the words of Job. Instead, she said regularly, "Don't waste your suffering. Offer it up and unite it to the suffering of Christ." Even when faced with amputation, she didn't ask how she could avoid the pain and suffering that procedure would entail; she didn't ask why this was happening to her. Instead she asked, "What does God want me to do with this suffering?" And before she was taken into surgery, she prayed thanking God for the use of her legs all those years, for carrying her around, and allowing her to be a good mother. She was an incredible witness of faith to the transformative power of suffering. It's one thing for someone who has not suffered to tell you to "offer it up," but it's quite another thing when someone who really knows suffering, who's walked the walk, to tell you the same thing.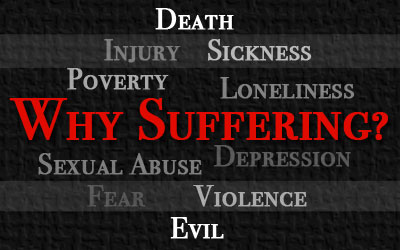 The famous dramatist Paul Claudel said poignantly of suffering, "Jesus did not come to explain away suffering or remove it. He came to fill it with His presence." You see, for we who believe in Christ, suffering is never without meaning. With the eyes of faith, in our suffering we can be united with Christ in the one great act of redemption. What our world forgets in this no pain day-and-age is that suffering is an opportunity to be united with Christ in the greatest moment of the history of the world – we can be united with Him on that cross and in the salvation of the world. Souls can be redeemed and saved and prayers answered when we direct our suffering, offer it up, to this spiritual end. And, importantly, in our suffering, we are not alone. Jesus is right there by our side carrying the cross with us.
We know that suffering and pain are part of the human condition. They are not caused by God. The wrong question to ask in the face of suffering is, "Why did God do this to me?" God didn't do it to us. Suffering is part of being human. When we accept that reality we become open to another possibility – an opportunity to invite God into our suffering to transform it – to fill it with His presence.
In our Gospel today, we hear about the compassion of Jesus as he cures Peter's mother-in-law and then all who asked for healing. But, many of those who went to Jesus were looking for him for the wrong reasons. They were looking for Jesus simply to get what they wanted – something merely external. They weren't interested in what Jesus came to give. Jesus says in our Gospel, "Let us go on to the nearby villages that I may preach there also. For this purpose have I come." He came to proclaim the Good News, to invite everyone to let God reign in their hearts and lives, to reconcile us with God and with one another. Jesus is interested in our physical welfare, but the spiritual must come first. Like the people of Capernaum we come to Church with our various problems of soul and body looking for Jesus. What we first need to do is to set our hearts on Jesus and the Good News and trust that the rest will unfold according to His plan.
Pope Francis took up this theme earlier this week in one of his daily homilies. Instead of getting stuck on the question of why there is suffering in the world, the Holy Father invites us to realize that the reason we are here is to help be God's presence in the midst of trial. He said, "I sometimes describe the Church as a field hospital. True, there are many wounded, how many wounded! How many people who need their wounds to be healed! This is the mission of the Church: to heal the wounded hearts, to open doors, to free people, to say that God is good, God forgives all, that God is our Father, God is tender, that God is always waiting for us."
In his own death, Jesus showed us how to face suffering and all the other evils we will inevitably meet during the course of our life. He showed us that suffering can have a purpose – even if we don't understand it.
Jesus calls us to seek Him first, to seek His Kingdom first. Jesus calls us to never waste any suffering that comes our way. We can offer any suffering in our lives to God. We can ask him to accept these sufferings as our share in the Cross of Christ, as our small contribution to Christ's work of salvation. We can be united with Him as He unites Himself with us in our struggles. The more we are able to do this, the more we begin to see with the eyes of faith, and find the happiness of the Kingdom. Let us invite God to fill our suffering – as well as our joys – with His presence and let us bring that presence to the places where it is needed in our world.
May the Lord give you peace.