HOMILY FOR THE SECOND SUNDAY OF EASTER, April 12, 2015:
Today, of course, we celebrate the Second Sunday of Easter, it is also Divine Mercy Sunday. This is one of my favorite Sundays because of the Gospel that we are presented with and the story of the apostle Thomas. For obvious reasons, I have always had a great affinity for Thomas and have also always found that he gets the short end of the stick when it comes to the way we usually perceive him. As we know, you mention this apostle and the first association that most people make is:
Doubting Thomas.
But, as we all just heard in the proclamation, doubting is not where Thomas ends up, but believing. His great profession of faith, "My Lord and my God" is what we should remember.
As someone also named Thomas, I'm always on the alert to try and rehabilitate this apostles' image as the perpetual doubter. And this week, I came across one of the most interesting commentaries on this Gospel I have ever read and it certainly contributes to this goal.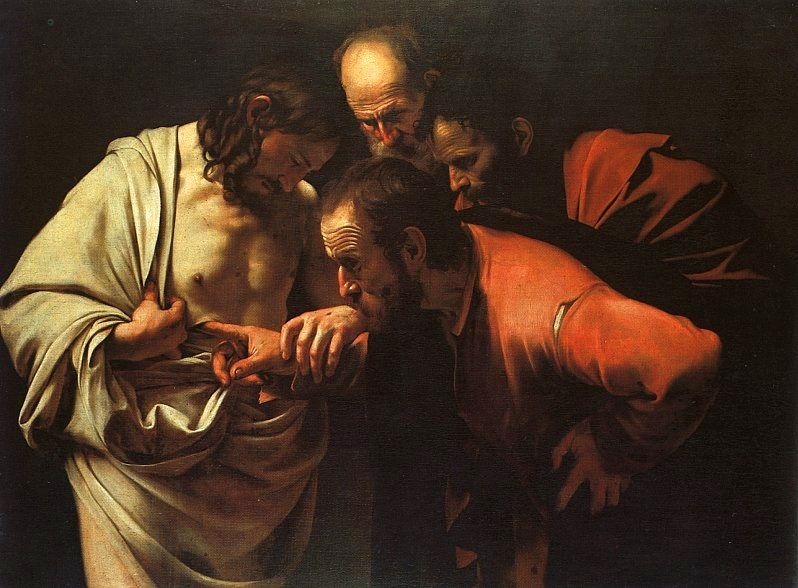 The usual take on today's Gospel goes something like this – Jesus appeared to the disciples, except Thomas who wasn't there. Jesus gives them the gift of peace; He breathes the Holy Spirit on them and gives them a mission to go forth and forgive sins. Everyone believed, except poor Thomas who, of course, gets labeled the doubter. The message from too many preachers will be: Don't be like poor, poor Thomas, instead have some faith like the rest of the apostles.
And, this is where Russell Saltzman gives the story a new spin. In his commentary he writes, Notice that "[the other apostles] didn't go anywhere, did they? They stayed put. They didn't venture an inch. They didn't undo a single sin anywhere. They remained together and they were still there when Thomas finally shows."
Read Russell Saltzman's full commentary: Correcting St. John

Saltzman goes on to say that if Thomas did indeed doubt, perhaps he didn't doubt Jesus, but he doubted his fellow apostles. After all, if Jesus appeared as they said, if He gave them peace as they said, if He breathed the Holy Spirit as they said, and if He gave them a mission as they said, then why were they still locked up afraid in that upper room? "If you've been sent, what are you still doing here?" is Thomas' dilemma. From Thomas perspective, an encounter with the Risen Jesus should have produced some fruit on the part of his fellow apostles, instead, he finds them right where he left them – afraid in the Upper Room.

Fast forward a week later, when Thomas is present, he receives the same gifts from Jesus and Tradition tells us that Thomas was the first of the disciples to leave Jerusalem. Once he was sent, he didn't hang around. From his encounter with the Risen Lord, Thomas made a huge leap of faith to the full divinity of Christ that the others didn't and was able to proclaim: "My Lord and my God." And with that he traveled, further and faster than all the rest, all the way to the tip of India. This is not the behavior of a doubter.

This is all a simple way of saying – especially on this Second Sunday of Easter – that Easter, the Resurrection, our faith should also make a difference in our lives; a difference that shows. Our encounter with the Risen Jesus should move us too and not leave us right where He found us. My friends, our God appears to us here again today. He speaks His word, He offers His Son, He gives us a mission. We, just like the apostles, are being sent – will we go anywhere? Will it make a difference in the way we are living our lives?

Pope Francis spoke powerfully about this moment not long after his election as Pope, and how this encounter is meant to send us our in mission. The Pope said, "The path to our encounter with Jesus are his wounds. There is no other. Jesus tells us [as He told Thomas] that the path to encountering Him is to find His wounds. We find Jesus' wounds in carrying out works of mercy, giving to the body of your wounded brother, because he is hungry, because he is thirsty, because he is naked, because it is humiliated, because he is a slave, because he's in jail, because he is in the hospital. Those are the wounds of Jesus today. And Jesus asks us to take a leap of faith, towards Him, but through these His wounds. We need to touch the wounds of Jesus, we must caress the wounds of Jesus, we need to bind the wounds of Jesus with tenderness, we have to kiss the wounds of Jesus, and this literally. Just think of what happened to St. Francis, when he embraced the leper? The same thing that happened to Thomas: his life changed."

My friends, today it is we who are in the Upper Room. It is we to whom Jesus offers peace and the gifts of His Spirit. It is we who are once again sent. Let us proclaim with Thomas, My Lord and my God!

Happy Easter and may the Lord give you peace.